After getting miffed with the in game move table one too many times because of how limited it is and how irritating it can be when planning a move set I decided to stop whining and do something about it and 12 hours of data input and formatting later the attached Excel sheet is the result.
In the excel sheet you will find 25 different sheets or pages ranging from all moves to a page for each required position to pages just for bleeding, submission and pinning moves as well as a page for each class.
MOVE TABLE EXCEL SHEET:
https://drive.google.com/file/d/0BwA...it?usp=sharing
Here is a short guide on how to use the excel sheet
(WARNING) if you know about excel you will find the following boring and patronizing if you don't know about excel you will still find the following boring and patronizing.(WARNING)
Upon downloading and opening the excel sheet you should find yourself on the "All Moves" page to change to a different page just click the tab that corresponds to the page you want you can find the tabs at the bottom of the screen and in the bottom left you will find a series of arrows which allow you to cycle through the different tabs until you find the one you need.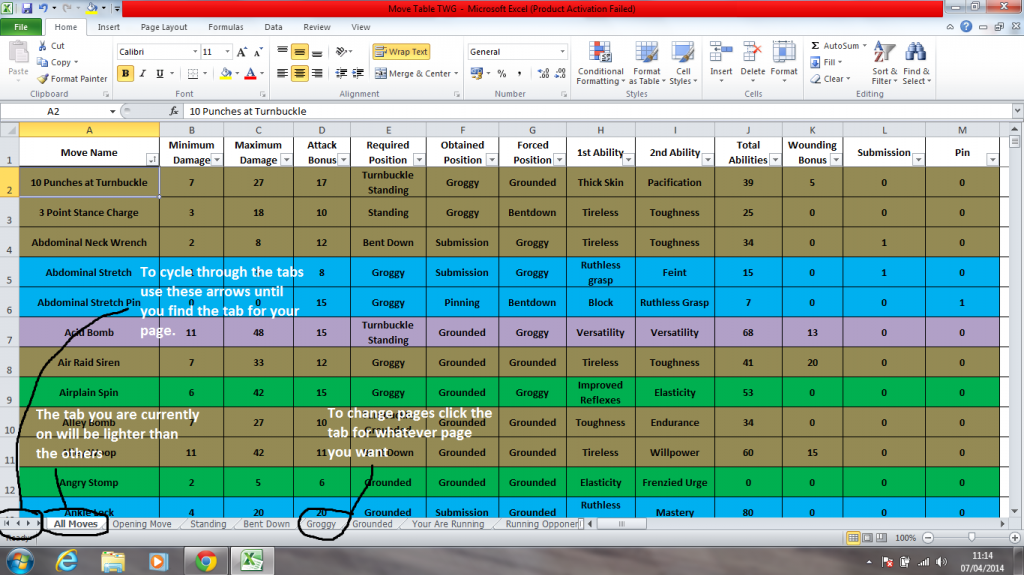 You may have noticed the funky arrows at the top of each column these have been added for easy access to sorting this means you can sort the moves using the data in each column want to know which moves do the best damage or want to arrange them by obtained position click one of these arrows and choose the appropriate sorting pattern from the menu that appears.
Want to find your favorite move? want to find all the dropkicks or all of the various suplexes? no problem simply hit and hold the Ctrl key on your keyboard and then tap the f button to bring up the search function.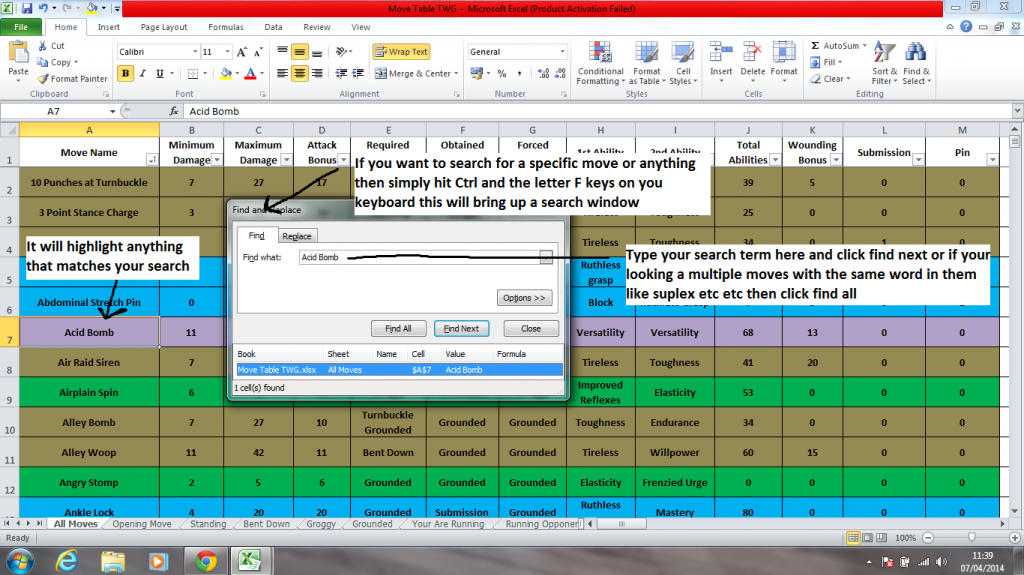 DESPITE MY BEST EFFORTS TO INCLUDE EVERY MOVE AND NOT MAKE ANY MISTAKES THERE INEVITABLY WILL SOME MOVES I HAVE MISSED AND SOMETHINGS I HAVE MISSPELLED SHOULD YOU BE OBSERVANT ENOUGH TO SPOT OR FIND ON OF THESE ERRORS PLEASE PM ME ON ENGLISH SERVER 1 MY NAME IS Luke Angel OR POST IT HERE